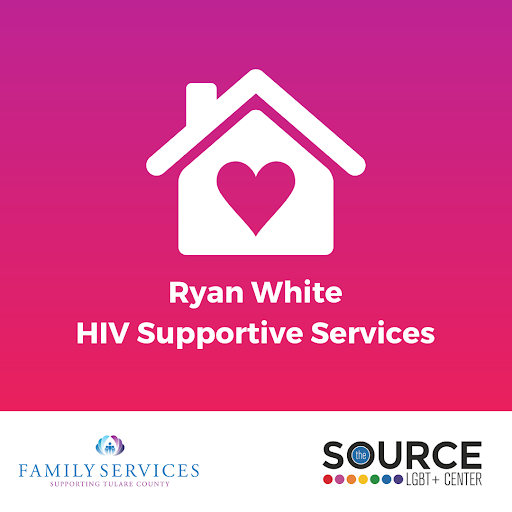 The Source LGBT+ Center and Family Services of Tulare County are proud to announce that as of July 1, 2020, The Source will be serving the community with funding from the Ryan White HIV/AIDS Program.  This funding, administered by the County of Tulare Public Health Department, will allow The Source to provide supportive housing services, emergency financial assistance, food vouchers, case management, and mental health and wellness services for individuals living with HIV or AIDS in Tulare County.  The goal is to provide support and reduce financial burdens on people who are living with these chronic conditions to allow them to focus on staying healthy and connected to medical care. 
Family Services had been providing these services in Tulare County for over 25 years. "We are honored as an organization to have walked alongside so many people in their journey of living with HIV and AIDS over these years," said Caity Meader, Family Services' CEO.  "Now is the time to pass the baton to a growing organization that has a great specialty in this area, is already doing important HIV and AIDS work in our community, and has staff and volunteers with lived experience with HIV."
The Source LGBT+ Center is dedicated to serving all people living with HIV/AIDS in Tulare and Kings County, and has made culturally competent HIV services a priority since 2016. Its programs are designed and led by people living with HIV. Programs include prevention and education,  rapid HIV testing, ADAP (AIDS Drug Assistance Program) enrollment, OAHIP (Office of AIDS Health Insurance Premium) assistance, PrEP assistance, support groups, case management, patient advocacy, and PrEP (Pre-Exposure Prophylaxis) and PEP (Post-Exposure Prophylaxis) education. 
"The Source is here for everyone, not just LGBT+ people… HIV/AIDS can affect anyone," said Brian Poth, Executive Director for The Source. "Tulare County has come a long way in acceptance, inclusion, and diversity and we are pleased to continue this vital work. We believe that people living with HIV are experts in their own experience. The Source values a whole person approach to increasing wellness and reducing stigma and we look forward to providing the Ryan White HIV/AIDS program in Tulare County."
If you or someone you know could use support in living with HIV/AIDS, please contact Dean Jackson, Program Director/HIV Services, The Source via at dean@thesourcelgbt.org, call/text 559-798-5955, or through their website, thesourcelgbt.org.