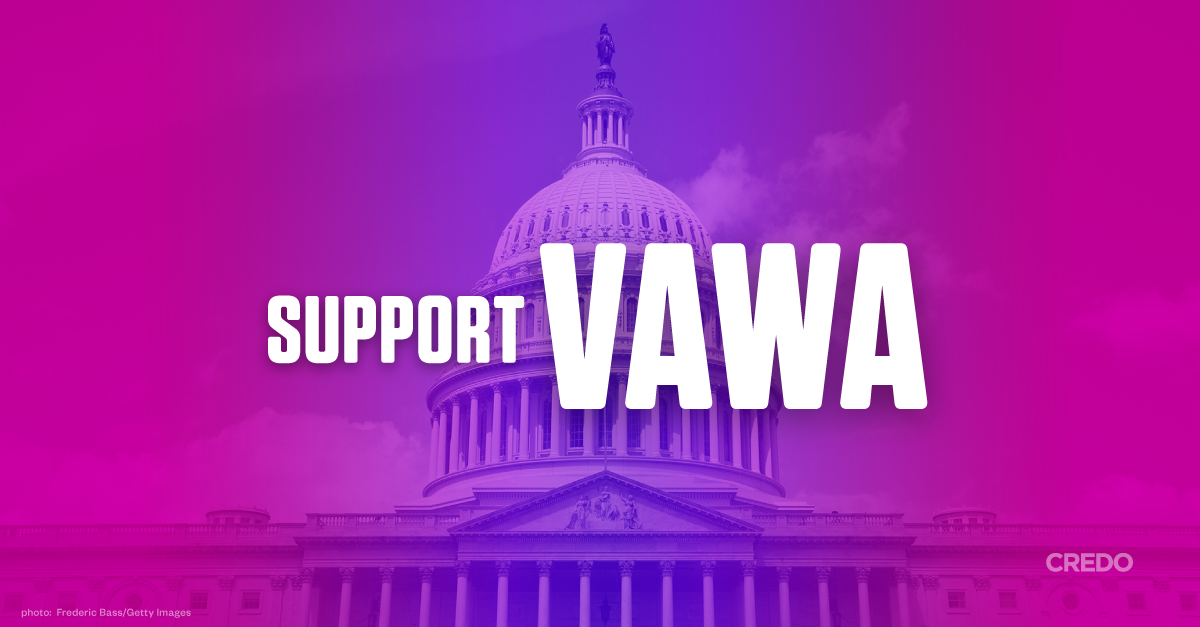 The Violence Against Women Act (VAWA) is a United States federal law originally passed through Congress with strong bipartisan support in 1994. The Act provided resources and protections to address four key violent crimes against women – domestic and dating violence, sexual assault, and stalking. The Act also established the Office on Violence Against Women within the United States' Department of Justice.  
Some key functions of VAWA include: providing grants to transform the criminal justice system's response to these crimes by developing coordinated community responses; funding multi-faceted prevention strategies; funding critical services to victims, including crisis intervention, advocacy, shelter and housing, legal services and more; and providing critical legal protections to all survivors.
VAWA has literally transformed America's response to domestic/dating violence, sexual assault, and stalking. Just a few victories we have seen come to fruition since 1994:
The overall rate of domestic violence has decreased 63%.
VAWA has strengthened victims' involvement in the criminal legal system, including their likelihood of reaching out for help.
VAWA-funded court and law enforcement reforms have improved access to safety and justice for survivors, increased offender accountability, and decreased recidivism.
VAWA-funded prevention programming has been empirically demonstrated to reduce sexual violence.
Between 2014 and 2016, VAWA funding provided more than one million victim services for survivors of the four crimes.
VAWA saves money. A 2002 study found that in its first five years, VAWA saved $15 billion in averted costs.
VAWA protects diverse survivors, including LGBTQ survivors, older adult survivors, survivors with disabilities, immigrant survivors, Native survivors, and others.
Locally, VAWA has made a direct impact on Tulare County in many crucial ways. For example, VAWA funds have provided local law enforcement training and support with enforcement of protection orders (a study of Kentucky survivors found that when survivors seek protective orders, threats to harm or kill the survivors decreased by nearly 50%, moderate physical abuse decreased by 61%, and severe physical abuse decreased by 50%). Providers like Family Services have received funds to implement transitional housing projects for domestic violence victims and their children, creating new programs to address abuse in later life, significant expansion of free legal services for victims, and to conduct outreach to underserved rural areas in our community.
And yet, we need to do more. While the four crimes have decreased significantly since 1994 when VAWA was first passed, rates of violence are still far too high:
One in five women and one in 59 men are raped in their lifetimes;
One in four women and one in seven men experience severe physical abuse by an intimate partner in their lifetimes;
One in six women and one in nineteen men experience stalking in their lifetimes;
A woman is murdered by a male intimate partner with a gun every sixteen hours;
The four crimes disproportionately impact women and members of underserved communities.
We need our lawmakers to fight for continued improvements to VAWA to ensure access to safety and justice for all victims. In the era of #MeToo, we have the opportunity to make meaningful positive change to protect and support all survivors.
Just over two weeks ago, House Judiciary Crime subcommittee Chairwoman Karen Bass (D-CA-37) and Representative Brian Fitzpatrick (R-PA-1) introduced H.R.1585, the bipartisan Violence Against Women Reauthorization Act (VAWA) of 2019. H.R.1585 is a reauthorization bill that includes narrowly focused enhancements addressing gaps identified by victims and survivors of domestic and sexual violence and the people who work on the ground with them every day.
Every time VAWA has been reauthorized, it has been strengthened based on our improved understanding of gender-based violence. H.R.1585 is based on widespread outreach to survivors, human service providers, and other community stakeholders. We believe this bill meets the needs of diverse survivors by maintaining vital protections for all survivors, investing in prevention, protecting dating violence from abusers with firearms, improving access to safe housing and economic independence, and improving enforcement of court-ordered firearm relinquishment.
We encourage you to learn more about H.R. 1585 and do your part to help move this important legislation forward. Here are two simple ways to communicate your interest in this issue and support of the 2019 VAWA Reauthorization:
1. Call your Representative now and ask him/her to support H.R.1585. If they haven't signed on as a co-sponsor of the Violence Against Women Reauthorization Act of 2019 (H.R. 1585), ask them to do so immediately. If your Representative has signed on as a co-sponsor to H.R. 1585, please call them and thank them. Use this link to find your Representative and his/her contact information. Click HERE for a sample script.
2. Contact your Members of Congress on social media. Make your support visible to everyone! Use Facebook, Twitter, and other social media networks to contact your Members of Congress. You can find their Facebook accounts and Twitter handles here. Click HERE for sample posts and images to share.