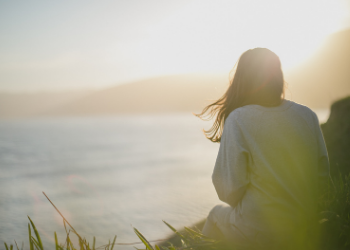 For me, the word "normality" means all the good things in my life before the abusive relationship. Before, I was happy with my life and who I was as a person. I knew I had flaws, but overall, I was happy with myself. When I entered an unhealthy relationship, I lost my persona and became what I thought he wanted me to be. I tried to leave the relationship about six times before, but I always went back. I realize now that leaving that life for good was the best decision I had made in a long time.
When I arrived at Karen's House, I was an emotional wreck. I was so sad and upset that I allowed myself to be in a situation that was very harmful, emotionally and physically.
I started to heal and work on becoming strong at my own pace. I didn't have this fog in front of me anymore, and I could see clearly. I was able to have time, patience, and most importantly, I felt safe.
Karen's House staff were encouraging and supportive. I always had someone to talk to, and communication was vital for my healing. I learned to take care of myself; once I started feeling better about myself and was in a caring and safe environment, I was more motivated.
When I was ready to start looking for employment, I felt empowered to manage the process. It was difficult searching for a job in a Pandemic. I did have some emotional setbacks, and some very disappointing moments. But I realized that these were just moments. They didn't define my life.
After months and months, I finally got a call from a temp agency for employment in October. A week after starting at this organization, I was offered and accepted a better job opportunity.
I've learned that even through the hardest setbacks, you can't give up. You need to keep moving forward, not backward.
Did You Know?
On average, it takes a domestic violence victim seven times to leave before breaking free for good. There are many reasons it can be hard to leave. Some of these are low self-worth, financial obligations, concerns for children, religious beliefs, fear of retaliation, or even hope that the violence will cease.
It can be heartbreaking to watch a loved one return to an abusive relationship, but it is important to continue to believe and support them. Survivors with a robust support system have better outcomes and are more likely to eventually break free. If you need help navigating how to support a loved one experiencing domestic violence, please give us a call on our hotline, 559-732-5941.
Get Help
Domestic Violence 24-Hour Hotline: 559-732- 5941 or 800-448- 2044