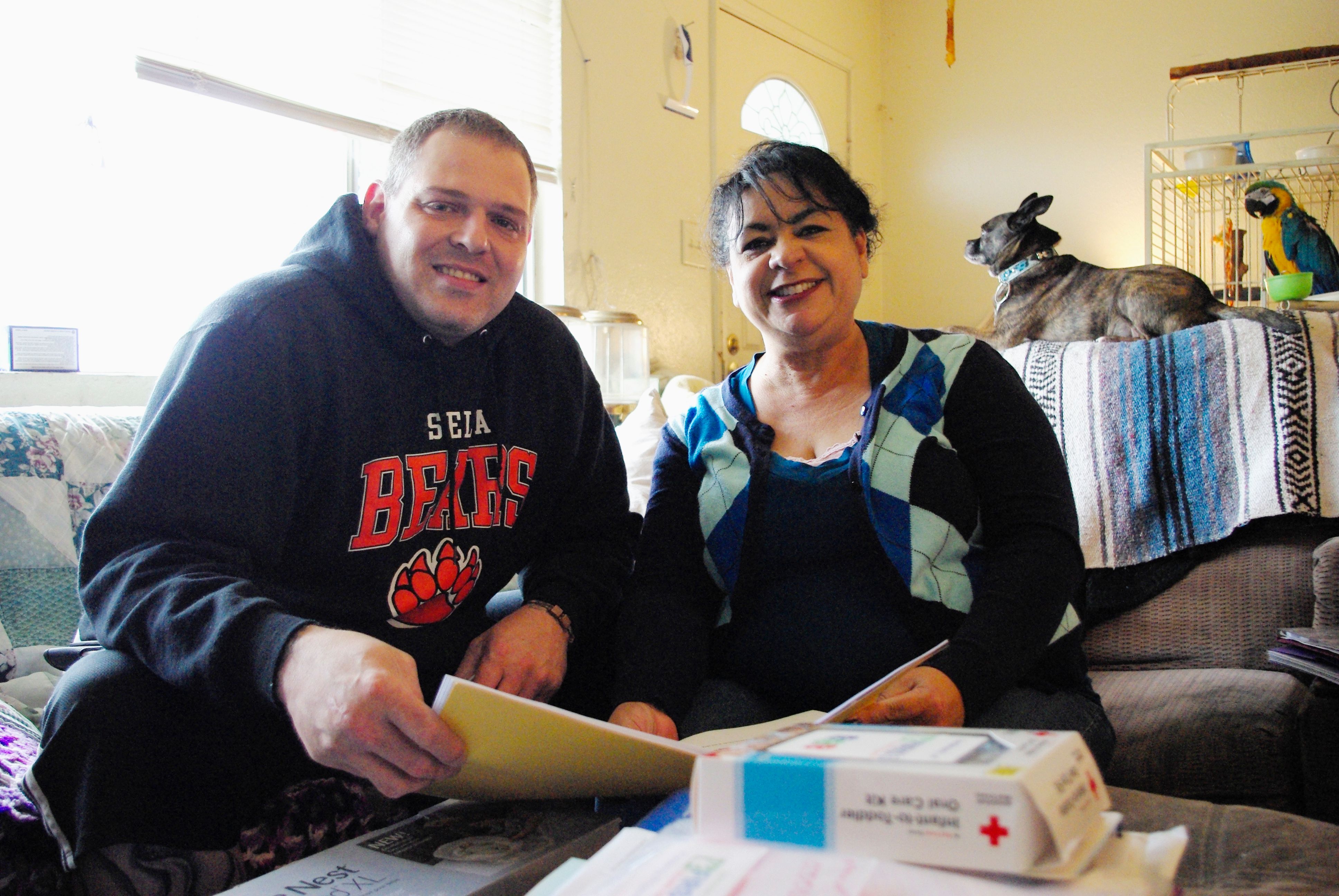 Family Services' Parenting Resources and Support program helps parents build healthy, well-balanced parenting skills through a variety of parenting programs. One of these is SafeCare®, an evidence-based, home visitation parenting program designed to keep children safe.   It addresses three key risk factors for child abuse and neglect: the parent-child relationship, home safety, and child health. A Family Services parent educator works one-on-one with parents who are at risk or have been reported for child maltreatment during 18-20 weekly home visits.  In 2018, Family Services provided in-home parenting interventions to 214 different families.
Researchers have conducted more than 60 studies since 1984 to develop and validate SafeCare® and extensions of the model.  Family Services and the County of Tulare participated in two of these studies with the Chadwick Center at Rady Children's Hospital.  The Safe Kids California Project (SKCP) started in 2009.  It was a five-year, statewide demonstration project designed to "cascade" the SafeCare® model across multiple California counties, to demonstrate that counties are able to sustain the delivery of SafeCare® well beyond the life of the federal grant that got it started, and to develop full cultural adaptation of SafeCare® for Latino families. 
SafeCare® keeps kids out of the Child Welfare system and reduces trauma and stress.  Children who experience trauma have higher levels of mental illness and substance abuse later in life.  Young children who do not form an attachment with at least one trusted adult suffer from rapid deterioration and developmental delays in areas such as cognition and learning, interpersonal relationships, and expressing emotions.  SafeCare® gives parents the tools to raise their children in a loving, stable environment so they can grow to their full potential.  Tulare County parents who complete SafeCare® are 86% less likely to have recurring incidents of maltreatment than non-participants. 
 
Juan's Story
Juan, a father who recently completed SafeCare®, lost custody of his two daughters because the conditions at his home were unsafe for children.  He enrolled in the program with two goals: to learn more about how to safely parent his children and to regain custody. 
Family Services Parent Educator Jannet visited Juan's home weekly and helped him to identify and eliminate the health and safety hazards that caused his children to be removed. But Juan learned much more than he was expecting to.  The SafeCare® curriculum's modules on parent-child interaction, communication, and problem-solving made him take a hard look at his role as a parent.
"I thought I was a good dad, but now I'm a lot better," said Juan.  "My dad was strict on me, so I was strict on them.  Now I know about setting boundaries and disciplining without spanking.  I play with them more and give them good comments so they will have self-esteem.  The 18 weeks in this program have been the best weeks of my life, learning how to take care of my kids."
Juan has regained partial custody of his children and continues to improve his relationship with them.  Juan's success with the program is a major achievement for him and his family, but his results are not unique.  Breaking cycles of abuse takes commitment and hard work, but Juan's story is proof that it can be done.
Craig's Story
Every week, Julia, a parent educator with Family Services, pulls up outside the home where Craig rents a room.  When she knocks at the door, usually with some baby care or child safety items in tow, Craig enthusiastically welcomes her in.  His manual and notebook are always open on the coffee table, and he has thought of several questions he wants to ask. 
Addiction treatment and intensive parenting classes are not how most new parents imagine spending the first few months of their child's life, but Craig and his wife are working through it.  Their goal is to re-gain custody of their three-month old daughter and to be the parents she needs them to be.  Craig's wife is in a residential treatment program working to get clean.  And they are both enrolled in SafeCare®, an evidence-based in-home parenting education program, with Family Services.  Julia will make weekly visits with each of them for 20 weeks to help them build parenting skills.
At first, Craig was worried about having someone come to his home.  He thought she might judge him or lecture him for losing custody, for the condition of the house, or for his roommate's pets.  But he was pleasantly surprised.
"Julia is always really respectful to us," Craig said. "One of the first things she said was 'I'm not here to judge you.  I'm just here to teach you how take care of your child.'"
Through mutual respect and growing trust, Craig and Julia have built a rapport that allows true learning to take place.  For Craig, who has a learning disability, the one-on-one format works especially well.  It's hard for him to focus and let his guard down in a big group.
"Julia makes things clear and easy to understand.  She brings things in, like the first aid kit and the car seat, and shows me how to use them," said Craig.
Craig has supervised visits with his daughter, and Julia has even come to a few of the visits to help teach interaction.  She shows Craig how to do things like clean his daughter's ears and clip her nails.  She reminds him what he's learned about talking and reading to the baby.  And she reassures him that he is doing a great job during the time he has with her.
Craig is a little more than halfway through the SafeCare® curriculum and is one of the most diligent clients Julia has worked with. 
"Learning parenting skills helps me not be so stressed out and worried.  Now I'm more confident," said Craig.  "I'm anxious to get her back so I can start being a dad."