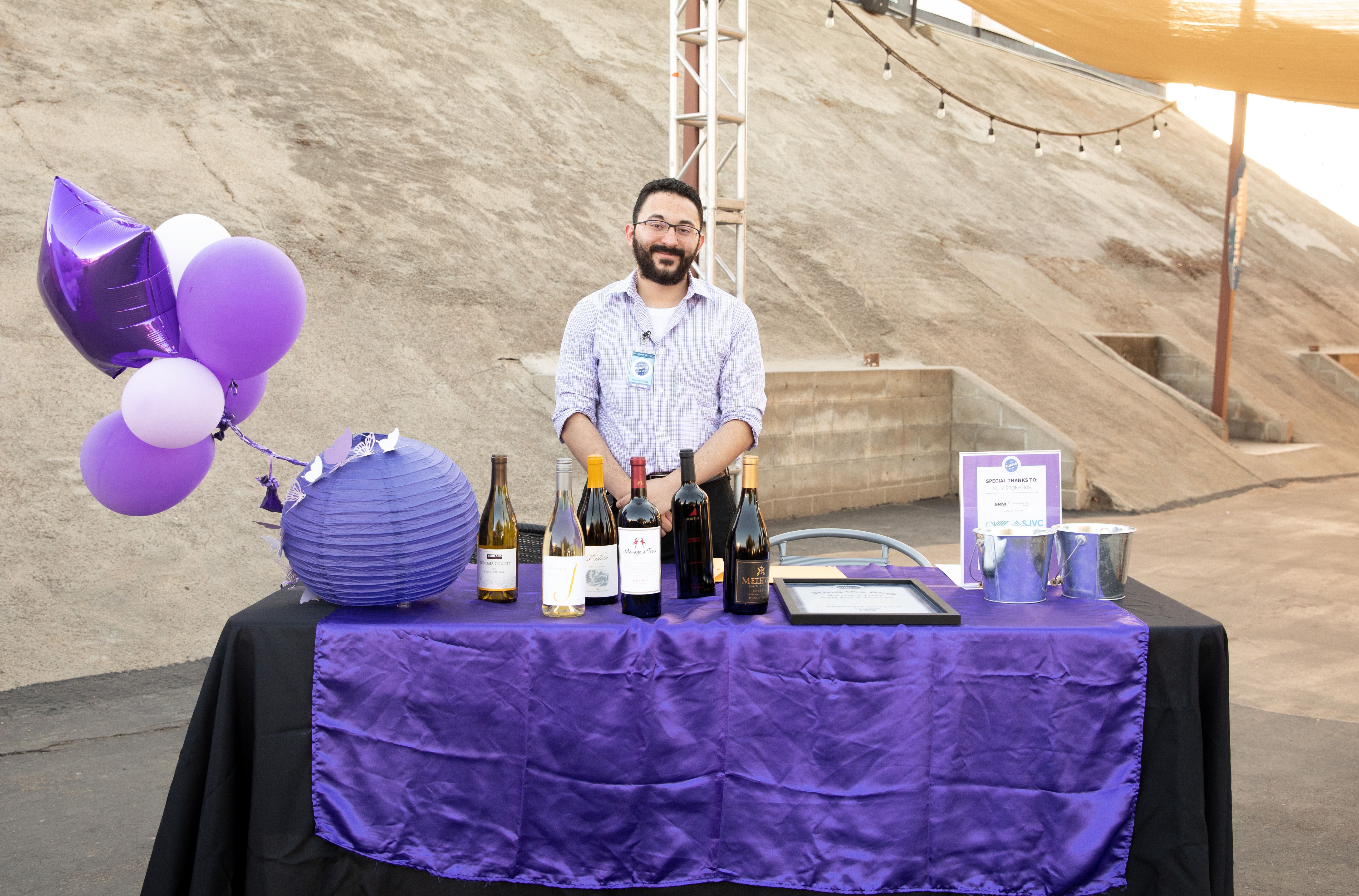 No act of kindness, no matter how small, is ever wasted. Small acts can accumulate and turn into big actions! Family Services was founded by a group of concerned citizens whose small actions grew into the agency, many support and know today. These volunteers opened a battered women's shelter in June of 1983. The founders of the shelter, led by Carol Enns and Nita Mathews were dedicated volunteers who saw a need in the community of Tulare County and that shelter has grown into the multi service organization, Family Services of Tulare County (FSTC).
Volunteers remain a key part of Family Services with our work for the community.
During this year's Volunteer Appreciation week, we would like to highlight one of our dedicated volunteers: Sam.
Sam started his journey with FSTC when he went searching for non-profit organizations that provided resources back to the community. His interest grew in continuing to volunteer as he recognized that FSTC was a community-focused and welcoming agency.
Sam first began volunteering for FSTC in June of 2022. He started volunteering with our Goshen Family Center at our monthly food distributions and since then has started helping other programs such as the Community Engagement team.
"I have learned in my time volunteering that it takes true time and dedication to provide for the community. It certainly is hard work waking up early in the morning to give out food to those in need or putting together large charitable events. It is because of this that I have learned that it takes true passion and commitment to be able to give back to the community in such a meaningful way," reflects Sam.
You may have recently seen Sam delivering a mum plant during our 'Thanks for Giving' Mum Sale last year, checking you in at this year's Guest Chef Series: Out West, or even handing our food with our Family Center in Goshen.
Sam is a volunteer that fills in the need where he is called. He assists many programs and continues to get to know our team and is excited to join us in our work.
"Personally, I feel my role has remained the same but has become more meaningful. Everyone does their part in giving back and the community is grateful for it. What I like most about my work with FSTC is getting to know staff and forming relationships with good people who seek to give back to our community and those in need. Everyone is very welcoming and kind which makes every time I volunteer a joy."
Sam has Associate in Arts degrees in Psychology and Criminal Justice from College of Sequoias with courses towards his Bachelor's in psychology currently being taken at SNHU. Sam is a full-time student that finds the time to be a part of the work in his community. Thank you, Sam!
Through this experience as an FSTC volunteer, Sam has also learned about himself. He shared, "I very much enjoy aiding others and standing alongside those who put in hard work for the benefit of the community." He has begun to understand how the work he is a part of is fulfilling and crucial work for the community.
"Personally, I volunteer simply because I enjoy taking time to give to something other than myself. Volunteering is extremely emotionally rewarding work, there is no greater feeling than doing good and helping others. I will always enjoy aiding others and thus it will be why I continue to volunteer. What I am next looking forward to is helping with more distributions and events as well as other activities at FSTC as it is always a joy to help when needed," said Sam.
Family Services is proud to have volunteers that walk alongside us as we provide for our community.
There are many others like Sam, these incredible community members volunteer during their evenings, weekends, and holidays and it makes all the difference!
There are many ways to get involved as a volunteer. Individuals and groups pitch in with administrative support, special projects, donation drives, facility maintenance, or fundraising events. In addition to these general volunteer opportunities, there is always a big need for hands-on assistance with our 24-hour crisis hotlines and crisis response. For those interested in helping people directly, we offer a 40-hour training to become a certified Victim Counselor.
When individuals lend a hand, they can truly change a life.
Family Services encourage you to remember there is no act of kindness, that is ever wasted. If you see a need in your community, get involved! You may find a local non-profit that aligns with your values, or you may begin a journey of your own, such as our founders did all those years ago.
Thank you to all our past and present volunteers. Thank you to our Volunteers like Sam, who join our mission and help children, adults, and families throughout Tulare County heal from violence and thrive in healthy relationships. We appreciate you!
If you see Sam at our upcoming events, such as the Purple Party, be sure to say, Hi!
To learn more about volunteering please contact our Volunteer Coordinator, Lorene Mendoza, at 559-732-1970, or email lorene.mendoza@fstc.net.