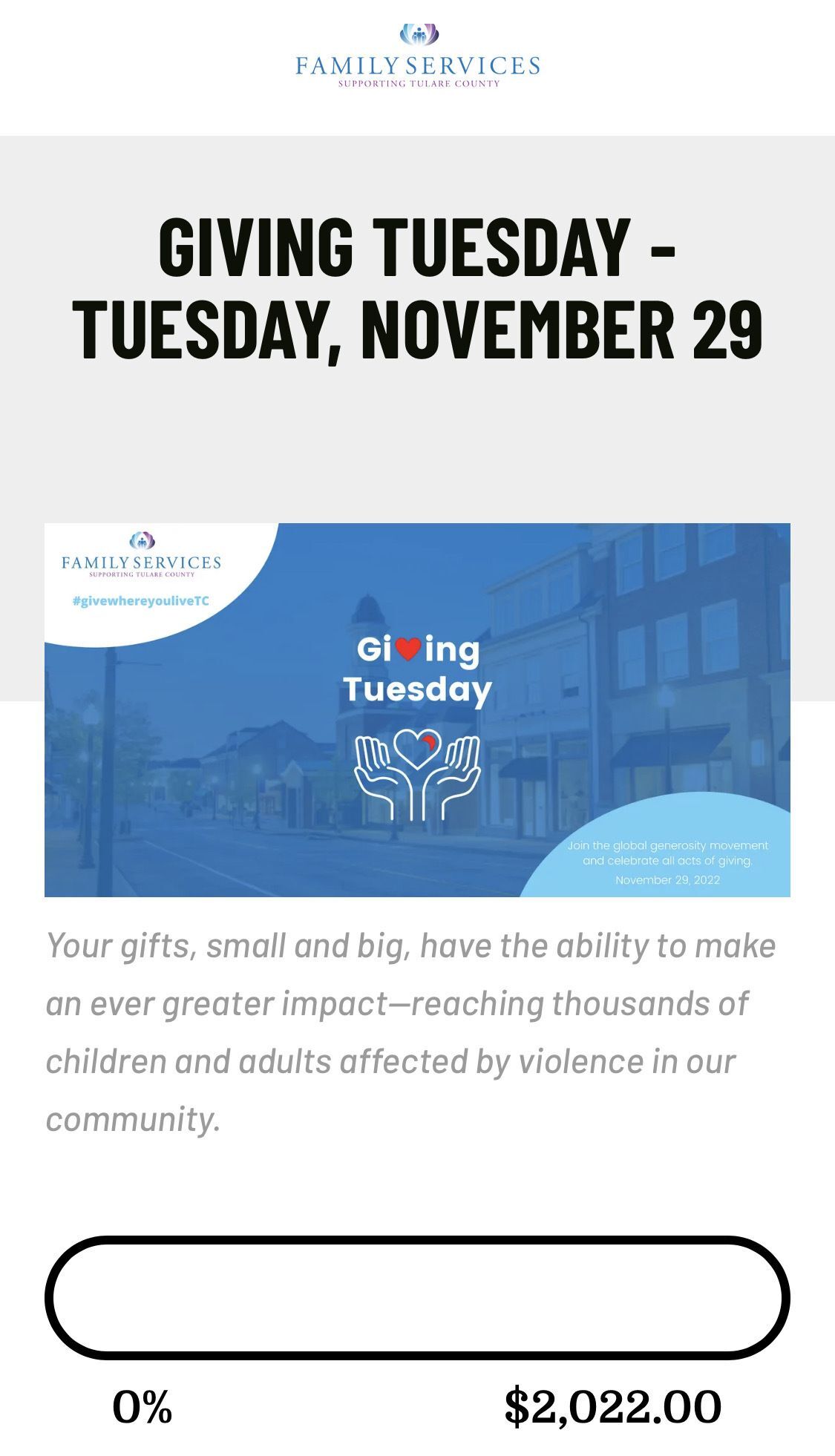 Join Family Services this Giving Tuesday! Giving Tuesday is a day of global generosity that encourages unleashing the power of radical giving. Giving Tuesday originated in 2012 as a simple idea: a day encouraging individuals to partake in an act of good. Since then, it has grown into a year-round global movement that inspires people to give, collaborate, and celebrate generosity.
Last year we raised $3,470 on #GivingTuesday, thanks to your generosity!
This year, Family Services invites you to #GiveWhereYouLiveTC. 
Nonprofit organizations in Tulare County have come together once again to encourage giving. As we enter a season of thanksgiving, it's important to reflect on the impactful work being done to continue Tulare County's growing resilience and care for one another. Family Services has partnered with local nonprofit organizations for Giving Tuesday! Arts Visalia, CASA of Tulare County, Community Services Employment Training (CSET), Friends of Tulare Animal Services, Proteus Inc., ProYouth, Rural Communities Resource Center, Sequoia Riverlands Trust, TC Hope, The Source LGBT+ Center, Tulare County Child Abuse Prevention Council, United Way of Tulare County, and Visit Visalia are all excited to encourage Tulare county to get involved this Giving Tuesday!
Whether it's advocating for an issue, giving to causes close to your heart, or sharing your skill-everyone has something to give, and every act of generosity counts! Generosity gives everyone the power to make a positive change in the lives of others and is a fundamental value anyone can act on. Everyone has the ability to contribute toward building the better community and world we all want to live in.
Visit our page to help us reach our goal of $2,022.00! 
Visit the Giving Tuesday page for Tulare county to view the full list of participants for this year's  #GiveWhereYouLiveTC campaign.