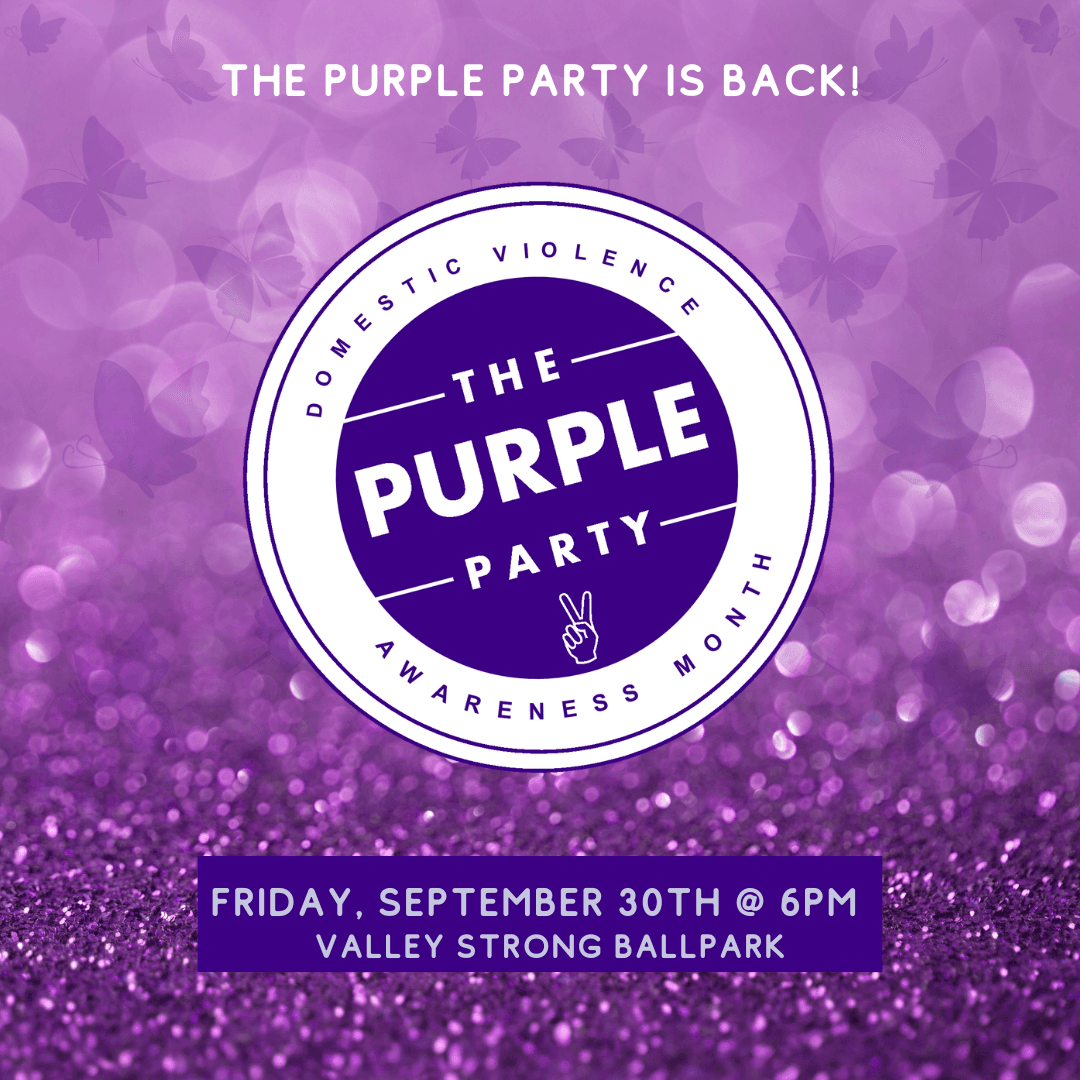 You're Invited!
When: Friday, September 30, 2022, at 6 p.m.
Where: Valley Strong Ballpark, home of Visalia Rawhide
(North Gate Entrance at Murray/Giddings)
300 N. Giddings St.
Visalia, CA
Cost: $50/ticket (includes dinner & drink)

Join Family Services for the 8th annual Purple Party on Friday, September 30th, 2022. Celebrate survivors and be part of the movement to end domestic violence while supporting Visalia's only emergency domestic violence shelter, Karen's House.
We are excited to host this event in-person at Valley Strong Ballpark, Home of the Visalia Rawhide. There won't be a baseball game that night, but there will be plenty of food, cocktails, a purple photo booth, outdoor games, an online auction, and more! With your ticket, you'll enjoy a delicious BBQ Dinner catered by Don't Bite the Bone BBQ and a special, purple-themed cocktail (or another beverage of your choice). Best of all, each ticket purchase and donation made during the event helps local survivors and their children receive safety and support through Family Services. We hope you'll join us! Sponsorships and tickets are available online, learn more and purchase tickets here.
The Silent Auction opens on Wednesday, September 28th at noon. Check out these exciting items that will be up for bid!
San Francisco 49ers Jesse Sapolu Limited Edition Football
Enjoy a Virtual Scavenger Game for your Company or Group from Let's Roam
Two-night Stay in Las Vegas
About Karen's House
Family Services provides comprehensive, trauma-informed services to survivors of domestic violence and their children. Our 40-bed emergency shelter, Karen's House, offers confidential shelter, meals, and comprehensive support services to adult victims of domestic violence and their children at no charge while they work to re-establish their lives in a supportive environment. Victims and their children can receive free counseling, and our program also offers case management, support groups, financial empowerment training, legal services, and specialized services for children. We invite you to learn more about Karen's House by taking a virtual tour. 
If you would like to support the cause but are unable to attend, please consider making a donation online or participating in the online auction portion of the Purple Party. Bidding will be open to the general public in addition to guests attending in person. Subscribe to our e-newsletter below to receive updates about Family Services' programs and events.