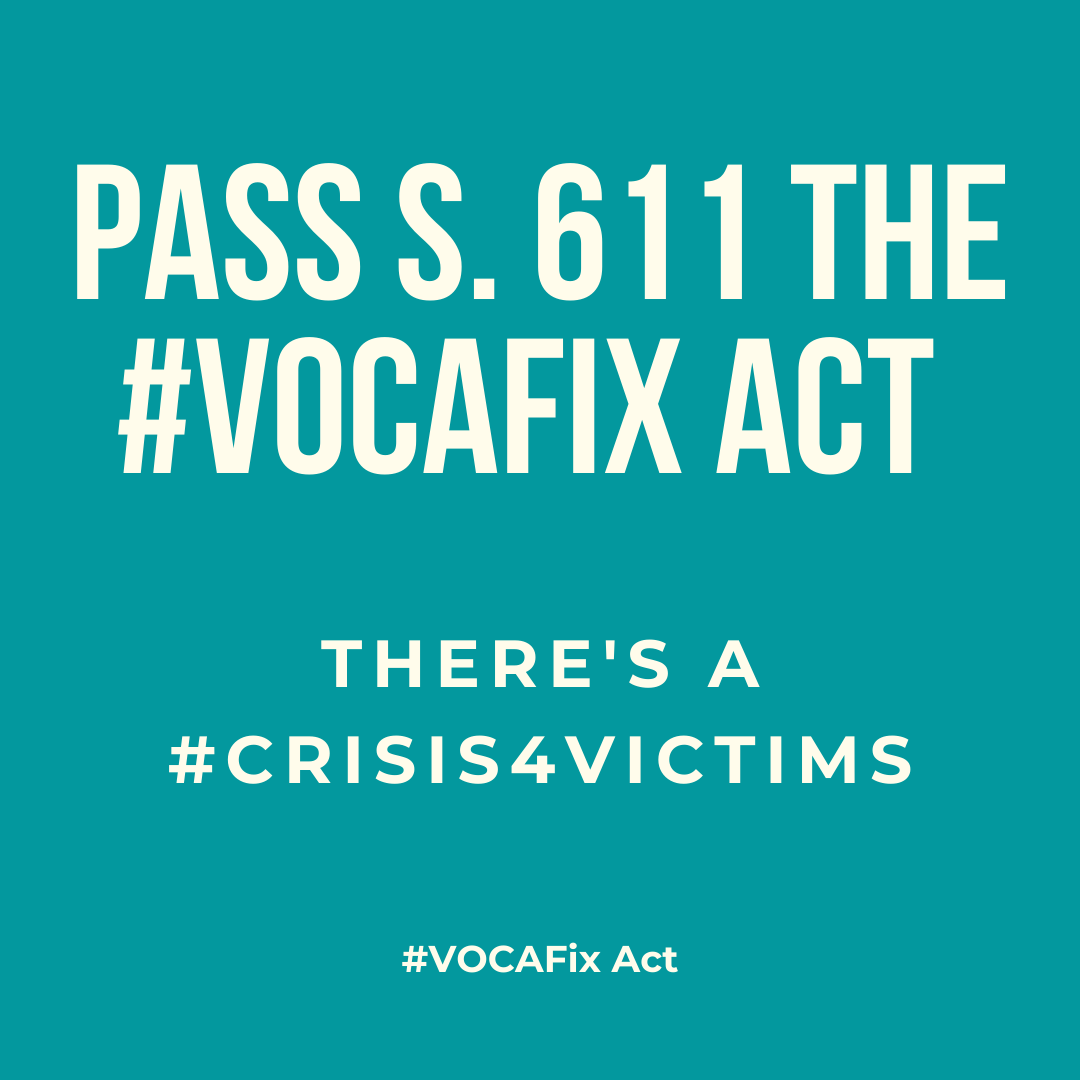 During Crime Victims' Rights Week, we must support victims and not turn our backs on people impacted by long-standing, pervasive public health epidemics - domestic violence, child abuse, sexual assault, trafficking, and other forms of interpersonal violence. Victims of crime are facing catastrophic cuts to funding for programs that serve them, and the Senate must take immediate action to protect grant funding for victim services by immediately passing S.611, the bipartisan, bicameral VOCA Fix to Sustain the Crime Victims Fund Act of 2021 ("the VOCA Fix Act").
Victims of Crime Act (VOCA) grants are the largest source of federal funding for victim service organizations, including Family Services of Tulare County. These grants are drawn from the Crime Victims Fund ("CVF" or "the Fund"), which comprises monetary penalties associated with federal criminal convictions; this means that VOCA grants are not taxpayer funded. They can be used to serve survivors of all crimes.
In Tulare County, VOCA funds currently support programs such as:
The Karen's House emergency domestic violence shelter;
Tulare County's only Rape Crisis Center which is available 24/7, 365 days a year;
Child abuse treatment therapy for children who have been victimized or witnessed violence;
Legal advocacy for survivors of domestic violence, sexual assault, and human trafficking;
Supervised visitation services for families working to safely reunify and address trauma;
Transitional housing for survivors of intimate partner violence and their children;
Victim services in rural communities such as Goshen and Woodlake;
Critical services to children in foster care through CASA of Tulare County; and
Victim/Witness assistance through the Tulare County District Attorney's office.
The CVF is like a bank account with deposits and withdrawals. In the past, when deposits were high, Congress was able to withdraw money to fund victim service grants while also leaving some in its 'savings account' as a backstop for tougher years. However, even the most robust 'savings account' will run out if more money is withdrawn regularly than is deposited. That is the situation in which we find ourselves. The balance in the 'savings account' has decreased by 70% since the end of 2017.
The historically low deposits into the CVF are, in large part, the result of DOJ's prosecutorial decisions, particularly in white-collar criminal cases. Instead of prosecuting, they are entering into deferred prosecution and non-prosecution agreements. Monetary penalties associated with these agreements go into the General Treasury instead of the Crime Victims Fund. The underlying crime is the same, but survivors do not benefit from that money - more than $7 billion over the last three years and at least $2.5 billion since January 1 of this year.
Deposits into the Fund are the lowest since they've been since the early 2000s, and Congress has had to pull from the Fund's savings. But since they also will need to draw on these savings in future years, they have had to cut victim service grants to avoid emptying the CVF entirely.
The solution is simple: pass the VOCA Fix Act to change the law so that monetary penalties associated with deferred and non-prosecution agreements go into the Crime Victims Fund. It's a common-sense solution that has broad bipartisan, bicameral support. And it can't wait! Every day that goes by without this deposits fix is a day that crime victims and the programs that serve them are denied critical funding. The House of Representatives passed the VOCA Fix Act by a margin of 384 - 38, and it is time for the Senate to follow suit.
Thank you to Senator Feinstein for being a champion for survivors by co-sponsoring S.611, the VOCA Fix Act! Your support is vital to getting the bill passed. Senator Padilla: victims, survivors, victim service programs, and your constituents are counting on you to be their champions. We encourage you to honor Crime Victims' Rights Week by taking direct action to support victims. Co-sponsor and vote in favor of the VOCA Fix Act to support your constituents without spending a dime of taxpayer money. We need your help to avert the pending catastrophe
How can our community help? It takes just one minute - click HERE! Contact your elected officials in Congress and urge them to cosponsor (or thank them if they already have) and vote YES on the VOCA Fix Act.  During Crime Victims' Rights Week, the Senate must take action to support victims of crime. Take action here, post it to social media and spread the word. 
Additional Resources: