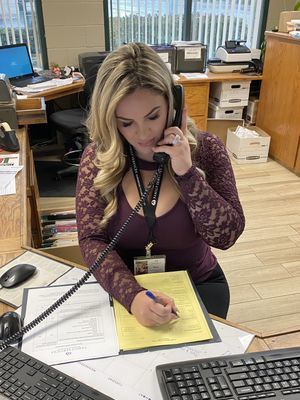 Longtime volunteer Michele Lima has dedicated almost 2,000 hours to Family Services' programs. Over the years, she has worked with survivors of domestic violence, both as a Volunteer Crisis Counselor at our emergency domestic violence shelter Karen's House, and as a Volunteer Legal Advocate assisting survivors who are preparing for court. Michele's passion for helping survivors eventually led her to become a Volunteer Crisis Counselor for Family Services' Rape Crisis Center.
Volunteer Crisis Counselors answer calls to Family Services' 24-hour Sexual Assault Hotline and provide crisis-response services. These include offering supportive counseling, information, referrals, and advocacy services to sexual assault victims and their significant others. Crisis Counselors also offer crisis intervention services at hospitals, law enforcement agencies, and during medical forensic examinations.
Michele describes her experience as "challenging, emotional, exciting, and more than anything, rewarding."
Volunteering has helped her see the world through a new lens. "I have learned that to empathize with someone's experience, you must be willing to believe them as they see it, and not how you imagine their experience to be," Michele said.
Michele strives to provide the best quality of services to survivors. Program manager Brenda Salazar shared, "Michele is caring and compassionate. She understands the importance of her role."
Volunteers are the first people hotline callers speak to when they reach out for help. If the person on the other end of the phone is helpful and supportive, it shows survivors that they are safe and can seek further services.
Michele shared, "Family Services has the kindest, most compassionate staff and volunteers I have ever met. Their goal is always the client, the victim, the person in need."
Volunteering in a Pandemic
Like nearly everything else, Family Services' volunteer program was affected by the COVID-19 Pandemic. While some volunteer positions had to be put on hold to minimize the potential for COVID exposures to clients, volunteers still gave 12,420 hours of their time during 2020.
To keep our crisis response programs running 24 hours a day post-Pandemic, we need new volunteers to join us in 2021. You could be the person who makes a difference in a victim's life.
Join Us!
Volunteers like Michele are the pillars of Family Services' work. They share their time, talent, and resources so that we can collectively help children, adults, and families heal from violence. We would love to tell you more about volunteering with Family Services.
Learn more about volunteering with Family Services or call or volunteer coordinator at 559-732-1970.