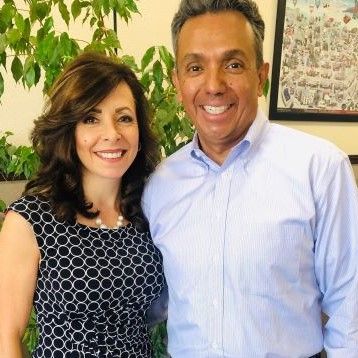 Donors contribute to Family Services in many ways and for many reasons.  Some give because they care about resources for local survivors of violence.  Others have a passion for helping women and girls, who experience disproportionate levels of domestic violence and sexual assault.  Still others donate every year as part of one of Family Services' special events.
For some donors, there is also a personal connection to Family Services' mission.  That's true for Lisa Salazar and her husband, Patrick.  Several years before she met Patrick, Lisa was in an abusive relationship.  With her then 18-month old daughter as her inspiration and her mother as her support system, Lisa was able to get out of that relationship. Lisa and Patrick donate to Family Services because they want every survivor to have enough support to break free from abuse, whether or not they have family members or friends to help.
"I was very fortunate to have my mom as my support system," said Lisa. "If it hadn't been for her, I don't know what I would've done.  The support system is everything, and that's what Family Services does for people."
Lisa went through a 40-hour domestic violence crisis counselor training with an agency in Southern California and volunteered her time working with survivors.  During that period of time helping others, she did a lot of healing within herself.  By talking to women and hearing their stories, Lisa realized domestic violence can happen to anyone, regardless of age, race, educational attainment, or socioeconomic status.
"Women look to other women and one voice can be an inspiration. One voice can be a turning point and can cause someone to take action in their own life.  One voice can help someone see that a healthy relationship is possible," said Lisa.
Lisa and Patrick have been married for 22 years.  From the beginning, they made a conscious decision to try their best to model a healthy relationship for their children.
"My daughter was the driving force for me to leave that abusive relationship and make a change. I didn't want her to see the example of that behavior and perpetuate it," said Lisa.
"Sometimes the pattern is repeated because kids in that environment will see the way mom is treated," said Patrick.  "So we have tried to model a healthy relationship for our kids. I hope we set a good example of what a relationship should look like."
Lisa and Patrick's passion for helping survivors of abuse started within their own lives and family, but it has rippled out to thousands of others through their children, their business, and their involvement in the community.  The daughter who inspired Lisa to get out of that abusive relationship now has a Ph.D., is a psychology professor, and has conducted global research on the impacts of domestic violence, sexual violence, and human trafficking.   
Patrick, a State Farm Insurance Agency Owner, says his customers allow him to give back to the community and use his business as a platform to support Family Services and other causes.  During Sexual Assault Awareness Month, the Salazars and Patrick's State Farm Agency challenged the community to donate to Family Services' online Denim Day campaign.  They matched the first $500 donated by the community.  Their support, along with that of dozens of other community members, helped Family Services' Rape Crisis Center raise over $5,000.
Because of their decades-long passion for survivors of violence, Patrick and Lisa find it easy to talk about supporting Family Services within their network.
"It's easy to paint a picture when you're passionate about it and have a true story," said Patrick. "We just want to help educate people, and make them aware that this happens."
"Especially right now," said Lisa.  "People need these services more than ever."