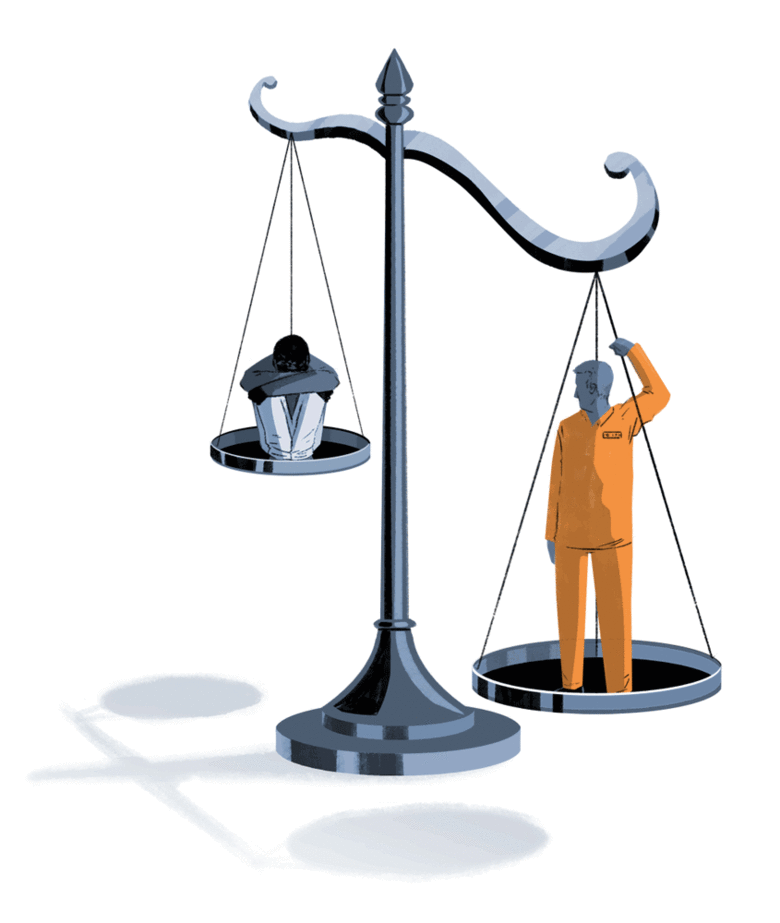 On April 6, the California Judicial Council adopted several Emergency Rules of Court to prevent the spread of COVID-19 among court employees, law enforcement, and staff and inmates in detention facilities.  These Emergency Rules have ordered the release of some people from prisons and jails across California.  They also set forth an emergency bail schedule (EBS) which The Tulare County Superior Court adopted, effective April 13 at 5 p.m.  Under Emergency Rule 4, bail for all misdemeanor and felony offenses is temporarily set at $0.
Exemptions to the new schedule include violent crimes such as murder, rape, and child molestation. However, the new rules permit $0 bail for crimes such as human trafficking for labor purposes, child abuse, elder abuse, auto theft, burglary and failing to register as a sex offender.  Certain charges, even in cases of domestic violence, child abuse, and elder abuse are not on the penal codes list of "violent offenses," meaning individuals who are being accused of those crimes could be set free with no bail.  The rules do not clarify what discretion will be used to determine bail based on the risk a particular offender poses to a victim.  This is especially critical for victim safety in domestic violence cases.
In addition, defendants are also eligible for $0 bail even if they have prior convictions categorized as "strike offenses" and violations of probation or parole.
Family Services of Tulare County is extremely concerned about the Court's decision to implement this recommendation in our community and we believe that this will put many victims and their families at imminent risk of further harm. While this change was clearly made in the interest of public safety for Coronavirus spread, we remain deeply concerned about the consequences of people being immediately released from custody with no bail.
There are two immediate considerations for victims:
If you contact law enforcement to report domestic violence, there is a possibility that an arrest may not occur, even if there is evidence of a misdemeanor or "non-violent" felonious criminal act. Police may not be able to take the offender to jail. It will be up to the responding officer to determine what they are arresting the person for and whether there is evidence to support that recommended charge. Our understanding at this time is that unless there is significant injury to a victim or evidence of physical violence or a substantiated threat to harm/kill, most domestic violence calls will not rise to the level of taking someone into custody.

It is very important for you to have a safety plan in place. Family Services' Advocates are prepared to spend as much time as needed with you. Please call us on our 24/7 Domestic Violence Hotline at (559) 732-5941 or Sexual Assault Hotline at (559) 732-7273 for immediate support, crisis counseling, safety planning, and referrals to additional services.
 
 If your abuser is currently in state or local custody, please sign up to be notified about any inmate releases and updates. Due to COVID-19, there have been a number of offenders who have been granted "early release" from both state prisons and local jails. This is different from the bail order changes outlined above but is still likely to impact victims. If you are concerned about an offender that is currently in state or local custody, please sign up immediately for VINELink - an online portal to access notification for inmate release and updates.
VINELink can be accessed 24 hours a day, seven days a week, to provide the most reliable information for custody status changes and criminal case information. The VINE service provides information by phone, email, TTY, and text message where available.

Go to VINELink: https://vinelink.vineapps.com/search/CA
Learn More:
Statement from the Tulare County Office of the District Attorney, April 13, 2020
Emergency Rules 1-11 of the California Rules of Court effective April 6, 2020
_____________________________________________________________________________________________________
El 6 de abril, el Consejo Judicial de California adoptó varias Reglas de Emergencia de la Corte para evitar la propagación de COVID-19 entre los empleados de la corte, la policía, el personal y los reclusos en los centros de detención.  Estas Reglas de emergencia han ordenado la liberación de algunos reclusos de las prisiones y cárceles de California antes de tiempo. Ellos también establecen un sistema de fianza de emergencia (EBS) el cual la Corte Superior del Condado de Tulare adopto, a partir del 13 de abril a las 5pm. Bajo la Regla de emergencia 4, la fianza por todos los delitos menores y delitos graves se establece temporalmente en $0. Existen excepciones al nuevo programa de horarios en los que incluyen crímenes violentos como asesinato, violación y abuso sexual de niños.
Sin embargo, las nuevas reglas permiten una fianza de $ 0 por delitos como la trata de personas con fines laborales, abuso infantil, abuso de a personas de la tercera edad, robo de automóviles, robo y no registrarse como predador sexual. Ciertos cargos como casos de violencia doméstica, abuso infantil y maltrato a personas de la tercera edad no están enlistados en la lista de códigos penales de "crímenes violentos" lo que significa que las personas que están siendo acusados de esos delitos podrían ser puestos en libertad sin tener que pagar fianza. Las reglas no aclaran qué criterio se utilizará para determinar la fianza basado en el riesgo de determinado agresor a una víctima. Esto es especialmente crítico para la seguridad de las víctimas en casos de violencia doméstica.
Además, los acusados también son elegibles para una fianza de $0, incluso si tienen condenas previas clasificadas como delito mayor "strike offense" y violaciones de libertad provincial o libertad condicional.
Family Services of Tulare County están extremadamente preocupados por la decisión del Tribunal de implementar esta recomendación en nuestra comunidad y creemos que esto pondrá a muchas víctimas y sus familias en un riesgo inminente de más daños. Si bien este cambio se hizo claramente en interés de la seguridad pública para controlar la propagación del virus de la Coronavirus, aun así seguimos profundamente preocupados por las consecuencias de que las personas sean liberadas de inmediato y sin tener que pagar fianza.
Hay dos consideraciones inmediatas para las víctimas:
Si contacta a la policía para denunciar la violencia doméstica, existe la posibilidad de que no se produzca un arresto, incluso si hay evidencia de un delito menor o un acto criminal "no violento". La policía puede que no encierre al agresor a la cárcel. Dependerá del oficial que responde determinar por qué arrestan a la persona y si hay evidencia que respalde ese cargo recomendado. En este momento entendemos que al menos que exista una lesión grave en una víctima o evidencia de violencia física o una amenaza corroborada de hacer daño o muerte, la mayoría de las llamadas de violencia doméstica no se terminaran en el arresto del alguien.

Es muy importante para que usted que tenga un plan de seguridad. Los intercesores de Family Services están preparados para pasar todo el tiempo que sea necesario con usted para ayudarlo y crear uno. Llámenos a nuestra línea directa de violencia doméstica las 24/7 al (559) 732-5941 o a la línea directa de abuso sexual al (559) 732-7273 para obtener ayuda inmediata, asesoramiento en caso de crisis, planificación de seguridad y referencias a servicios adicionales.
 
Si su agresor se encuentra actualmente bajo custodia estatal o local, regístrese para recibir una notificación de liberación y actualizaciones de reclusos. Debido a COVID-19, ha habido un número de reclusos que se han concedido "pronta liberación" de prisiones estatales y cárceles locales. Esto es diferente de los cambios en el orden de fianza explicados anteriormente, pero aún es probable que afecte a las víctimas. Si usted está preocupado por un recluso que está actualmente bajo la custodia estatal o local, por favor suscríbase inmediatamente a  VINELink -  un portal en línea para acceder a notificaciones de liberación y actualizaciones de reclusos.
Se puede acceder a VINELink las 24 horas del día, los siete días de la semana, para proporcionar la información más fiable sobre los cambios en el estado de custodia y la información del caso penal. El servicio VINE proporciona información por diferentes medios: teléfono, correo electrónico, TTY y mensaje de texto cuando esté disponible.
 
VINELink: https://vinelink.vineapps.com/search/CA
Aprende más:
Declaración oficial de la Oficina del Fiscal de Distrito del Condado de Tulare, 13 de abril de 2020
Reglas de emergencia 1-11 de las Reglas de la Corte de California vigentes a partir del 6 de abril de 2020