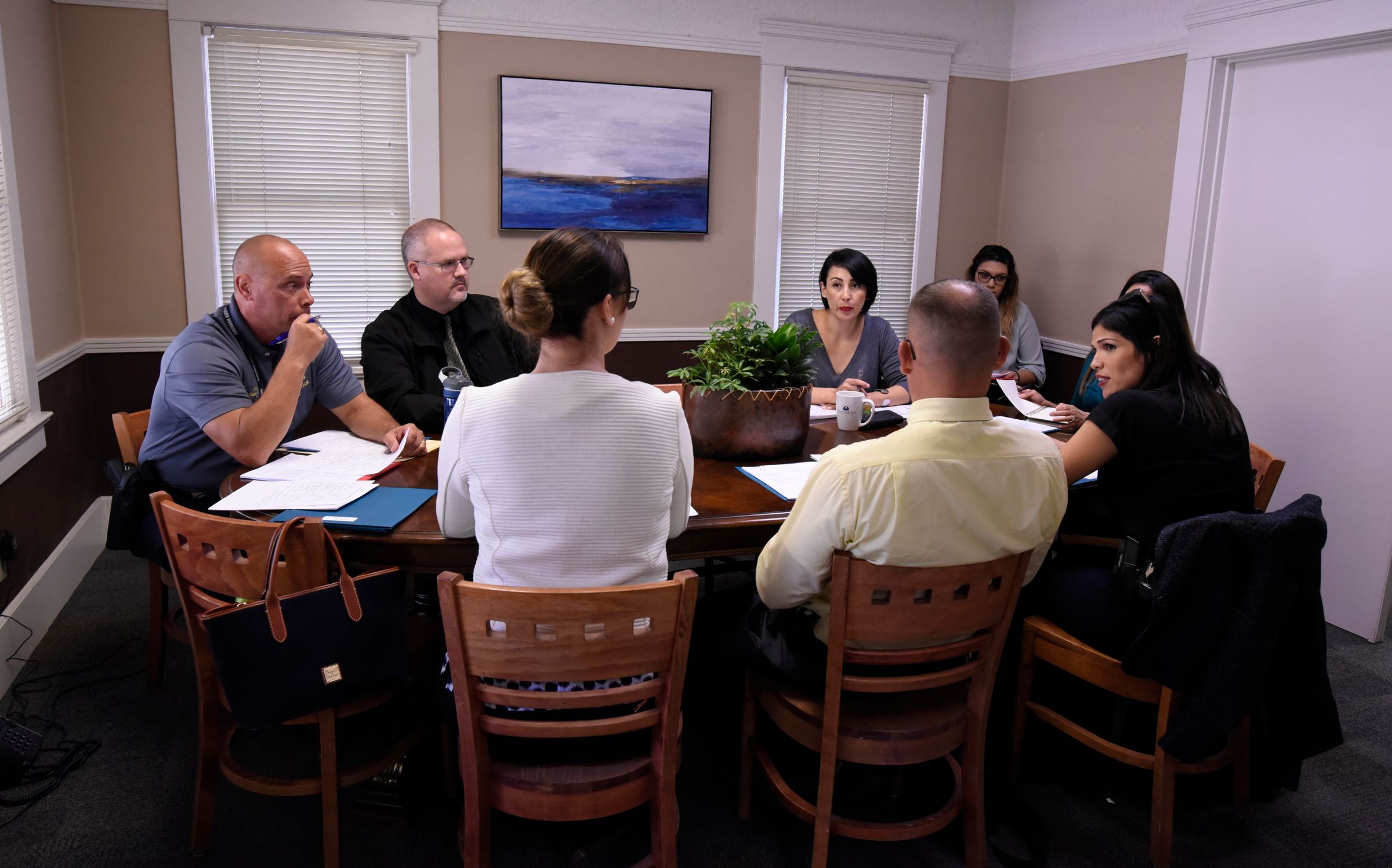 Domestic violence homicides are often perceived as coming out of nowhere—as something that happens when a partner "just snaps." Research tells a different story. We now know that the escalation of domestic violence to a lethal level follows an identifiable pattern with identifiable indicators. A new collaborative effort in Tulare County is focusing on using those indicators to identify which cases are escalating toward a homicide and to find opportunities for the system to intervene early on.
The effort is called the Domestic Violence High-Risk Team (DVHRT) Model. Family Services and the Tulare County Sheriff's Office are co-leading the project, which also includes the Tulare County District Attorney's Office, and the Tulare County Probation Department. The DVHRT Model incorporates evidence-based risk assessment tools into Tulare County's domestic violence response system to identify the most dangerous cases—those that are at greatest risk of lethal or near lethal assault. The multidisciplinary team then meets regularly to monitor these high-risk cases, sharing case information and implementing specific intervention plans to mitigate the danger.
The Tulare County Sheriff's Office and Family Services of Tulare County are both using new risk assessment tools when working with domestic violence cases. Sheriff's Office detectives and
deputies are using an 11-question tool called the Danger Assessment for Law Enforcement (DA-LE) when responding to any call involving domestic violence. Advocates at Family Services are using an in-depth, 20-question tool with survivors who are seeking out services, called the Danger Assessment. Both were developed by Dr. Jacquelyn Campbell of Johns Hopkins University, the leading researcher in the field of intimate partner homicide.
When a deputy uses the DA-LE during a domestic violence call and the case screens in as high-risk, the deputy advises the survivor that they are in a dangerous situation and urges them to get help.
"Research shows that there is something powerful about intervention from law enforcement just after an incident because the survivor is very open," said Caity Meader, Executive Director of Family Services. "When a member of law enforcement says to them, 'based on the answers to these questions, I'm very afraid for your safety' it can make a huge difference."
The hope is that more survivors of domestic violence will seek safety before the situation escalates to a lethal or near lethal one. According to Campbell's research, the majority of domestic violence homicide victims, offenders, or both—up to 83%—had contact with criminal justice, victim assistance, or health care agencies in the year prior to the homicide. In the year prior to the homicide, more than 44% of abusers were arrested, and almost one-third of victims contacted the police. At the same time, only 4% of domestic violence homicide victims had used a domestic violence hotline or lived in a confidential shelter within the year prior to being killed by their partner.
"This is the key. We are trying to develop innovative ways to reach victims who are not walking through the doors of our shelter, to let them know that help exists, because our services are protective," said Meader.
All cases from the Sheriff's Office that have screened in as high risk go to the DVHRT for review and intervention (Family Services only refers the case to the DVHRT with the survivor's permission.) Representatives from the four partner agencies meet in person, twice a month, to review each case. The bimonthly meetings ensure an open line of communication between all members of the team, allowing each agency to take actions to increase safety for the victim and maximize accountability for the offender.
The DVHRT Model is a nationally-recognized domestic violence homicide prevention framework identified by the Department of Justice, Office on Violence Against Women as a leading promising practice in the field. Tulare County was selected through a competitive application process as one of two communities in the United States to receive customized training and technical assistance to fully implement the Model.
Monica Rodriguez is Family Services' DVHRT Coordinator. In her role, she manages the administrative processes of the High Risk Team and serves as Family Services' primary contact person with domestic violence survivors who are at highest risk.
"I am humbled to be part of something that has the potential to save lives," said Rodriguez. "Since our community is one of the first to fully roll out the High Risk Team Model, we have the ability to influence other communities to implement a process like this. Tulare County is at the forefront, and I see us being part of a larger movement that helps survivors in our own community and beyond."
Photo courtesy of Tulare County Sheriff's Department