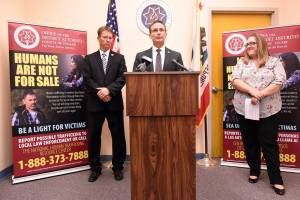 Human trafficking has been a hot topic in Tulare County over the past several months due to a high-profile Tulare County Sheriff's Office operation in August that dismantled a large human trafficking ring. Many local residents were shocked to learn that human trafficking existed so close to home, but in fact, it has been thriving here for years. Thanks to increased awareness, resources, and collaboration, more victims are being identified and more perpetrators are being brought to justice.
Human trafficking is a crime involving the exploitation of someone for the purposes of compelled labor (labor trafficking) or a commercial sex act (sex trafficking) by using force, fraud, or coercion. When victims of sex trafficking are minors, also referred to as commercially sexually exploited children, the situation is still considered human trafficking even if the elements of force, fraud or coercion are not present. The word "trafficking" can be confusing—the activity does not have to cross any national, state, or other border to be considered human trafficking. This form of modern-day slavery affects people across the world, and it's happening right in our own back yard in nearly every Tulare County community.
Family Services is currently serving 33 victims of human trafficking—both youth and adults. The majority of the victims are American citizens, while a few are foreign nationals.
"The majority of the sex trafficking cases we're seeing right now involve youth starting relationships online," said Rape Crisis Center Program Manager Jennifer Boteilho. "Traffickers are very good at grooming victims via social media, so it's important for youth and parents to be aware of this tactic and talk about Internet safety."
Family Services is also working with victims of labor trafficking. "Most of the labor trafficking cases we've seen have involved some kind of debt bonding," said Boteilho. "Victims are working to pay off a loan, often in brutal conditions that they aren't allowed to leave, but they can never get out from under the debt."
Family Services has been working to increase awareness about human trafficking for more than five years, and has provided as many services as funding would allow during that time. The work started when Family Services became a partner in the Central Valley Against Human Trafficking (CVAHT) Task Force, a regional coalition led by the Fresno County Economic Opportunities Commission, in 2011. CVAHT provides training, technical assistance, outreach and awareness activities, and services to human trafficking victims from Merced County to Kern County.
In early 2016, Family Services expanded its capacity to provide free services for victims, hiring its first full-time advocate working directly with human trafficking victims. Family Services now offers a continuum of services for victims of both labor and sex trafficking, including comprehensive case management, crisis counseling, shelter, emergency financial assistance, criminal justice support, information and referral, ongoing mental health services, and legal advocacy. Family Services has also continued and expanded its outreach and education efforts, partnering with Child Welfare Services and the Tulare County District Attorney's Office to provide coordinated training to law enforcement, service providers, and other groups. All services are available in English and Spanish.
The increased capacity to serve victims came at a good time. In August, the Tulare County Sheriff's Office dismantled a human trafficking ring, arresting 15 people for sexually exploiting 23 juveniles and 29 adults. The leader of the human trafficking organization lured his victims into prostitution through a fraudulent social media page. He portrayed himself as a young woman, befriended the victims on Facebook, and groomed them for sexual exploitation. Three of those arrested were leaders of the ring, and the other 12 were co-conspirators—"consumers" of the commercial sexual exploitation. On the day of the arrests and since, Family Services has been available to provide services to victims and their family members.
In October, the U.S. Department of Justice Office for Victims of Crime awarded a $1.4 million, three-year grant to Family Services, the Tulare County District Attorney's Office, and the Tulare County Sheriff's Office to strengthen the Tulare County Human Trafficking Task Force, help pay for investigations, and offer essential services for victims. The District Attorney's Office and Sheriff's Office will focus efforts on proactive investigations and sharing best practices with local law enforcement to aide in their own investigations. One full-time DA Investigator and one full-time Sheriff's Detective dedicated to human trafficking will fulfill this role. Family Services will receive funds to hire a second full-time victim advocate and a part-time therapist to work exclusively with human trafficking victims. The grant also provides funds for emergency assistance for victims, including shelter, food, health care and other expenses.
"We are proud to stand alongside the Tulare County District Attorney's Office and the Tulare County Sheriff's Office to address the critical issue of human trafficking so that all victims of violence in Tulare County have access to justice and can receive the support they deserve," said Caity Meader, Executive Director of Family Services. "It takes true collaboration in all parts of our system to make long-term sustainable change possible. We are ready to take the next steps in this important work, not just to serve each individual victim, but to end human trafficking in Tulare County for future generations."
Help is available 24/7
Do you know of someone who may be a victim of human trafficking? Confidential help is available 24 hours a day:
Family Services' Sexual Assault and Human Trafficking Hotline: 559-732-7273 or 559-784-7273
National Human Trafficking Resource Center: 888-373-7888