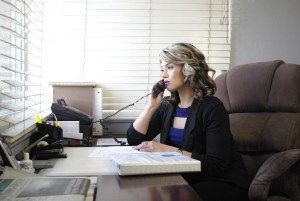 When Ashley Cain began volunteering at Family Services in February, she knew it would be a good fit. She had already completed a degree in psychology at California State University, Fresno, so becoming a certified Domestic Violence Crisis Counselor was a good next step.
It made sense for her to volunteer at Karen's House, Family Services' emergency domestic violence shelter, because Ashley knows firsthand the impact the shelter has on the lives of victims of domestic violence. She knows because she first came to Karen's House with her mother when she was only four years old. "Wherever we went, we weren't safe," Ashley recalls, describing her relationship with her biological father. "I had to think older than most kids, like about protecting my mom, worrying about her."
They weren't without family, and they weren't alone, but it wasn't until she came with her mother to the shelter that Ashley finally felt safe.
"I knew that my mom was ok, and that was my main priority," says Ashley.
Even at a young age, Ashley instinctively learned to keep her guard up, but at the shelter she felt a kind of relief – to play with other children, to let other women help care for her.
"I remember their faces, the things they taught me, little things like how to blow my nose, and being there when I was sick," Ashley recalls. But even after she and her mother left the shelter, they maintained a relationship with Family Services. "Even in high school," she says, "when things began to bother me again, I was able again to get counseling through them."
Now, in her role as a volunteer, Ashley is working with women in the same way that others worked with her, and that experience has grounded her. "When a woman comes in and asks if she can talk to me, I'm not nervous by it. Or when somebody calls me crying on the phone, I'm picturing it. I know exactly what it's like," says Ashley.
"At Karen's House," she continues, "they were there for us to help get us back on our feet. They helped us get into an apartment, work our way up." And that is a lesson she can pass on to others. Because when many of the guests at Karen's House hear her story and learn that she's pursuing a graduate degree, they tell her, "That's what I want for my daughter, too." And Ashley responds: "Hey, your kids are going to be ok."
While her personal experience has provided a unique perspective, Ashley doesn't believe it's a necessary quality to become a crisis counselor.
"That," she says, "is humility. Be open minded," she suggests, "and don't be intimidated to listen to other people's stories."
"They're just like you and me," she adds, speaking about the women coming to Karen's House. "They can be anybody— your sister, your mom, your friend. It's not just the poor; it's not just people who have nobody."
"They just want to move forward, and they don't want to be the victim," says Ashley. "Many women here, they just want their own sense of place; they want to live responsibly and get back on their feet."
Ashley and her mother were once those women looking for a safe place, and it was at Karen's House that people were willing to see them not as victims but as people with a future. Ashley acknowledges this role that Family Services played in her own life, and even believes that her experience since as a volunteer helped her secure a full-time position as a case manager at Kings Community Action Organization where she works with low-income families and children.
As for now, Ashley plans to continue volunteering at Family Services, even if on the weekends, and her reason is simple: "When I share my story with someone else and I see their face changing, that gives me joy." Plus, she adds, "I just hope I can help them."
For more information on volunteering with Family Services, please contact our Volunteer and Outreach Coordinator at 559-732-7371.