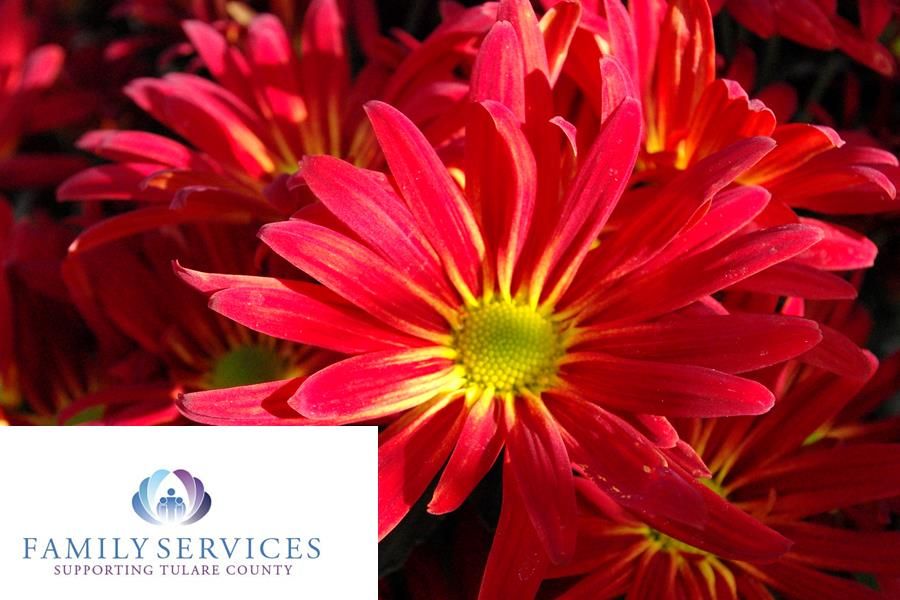 Every November, Family Services sells chrysanthemum plants to raise funds for our programs and services.  The blooming plants come in foil-wrapped pots and make wonderful host/hostess gifts during the Thanksgiving season.  They can also be planted outdoors to enjoy throughout the year.  Your mum purchase supports the work we do:
Karen's House  shelter for domestic violence survivors and their children
Comprehensive services for human trafficking survivors at Freedom House
24-hour crisis response and ongoing support for survivors of sexual assault
Counseling for children & families
Free parenting classes that keep children safe
Best of all, your support helps children, adults, and families in our Tulare County community heal from violence and thrive in healthy relationships.
There are two ways to get involved:

1. Become a mum sales site:  Get your business, organization, or service club involved by placing a group order.  It's easy!    Download your mum packet, collect orders and payment, then fax or email us your order form by Friday, November 9.  As long as you order six or more plants, our volunteers will deliver them to your site on Wednesday, November 14.  
2. Order online:  Not part of a mum sales site but still want to purchase?  Place your online order today.  You can pick up your plants at our administration office on Thursday, November 15.
Questions?  Please contact Development & Communications Coordinator Amy Gonzalez at (559) 732-1970 or amy.gonzalez@fstc.net.