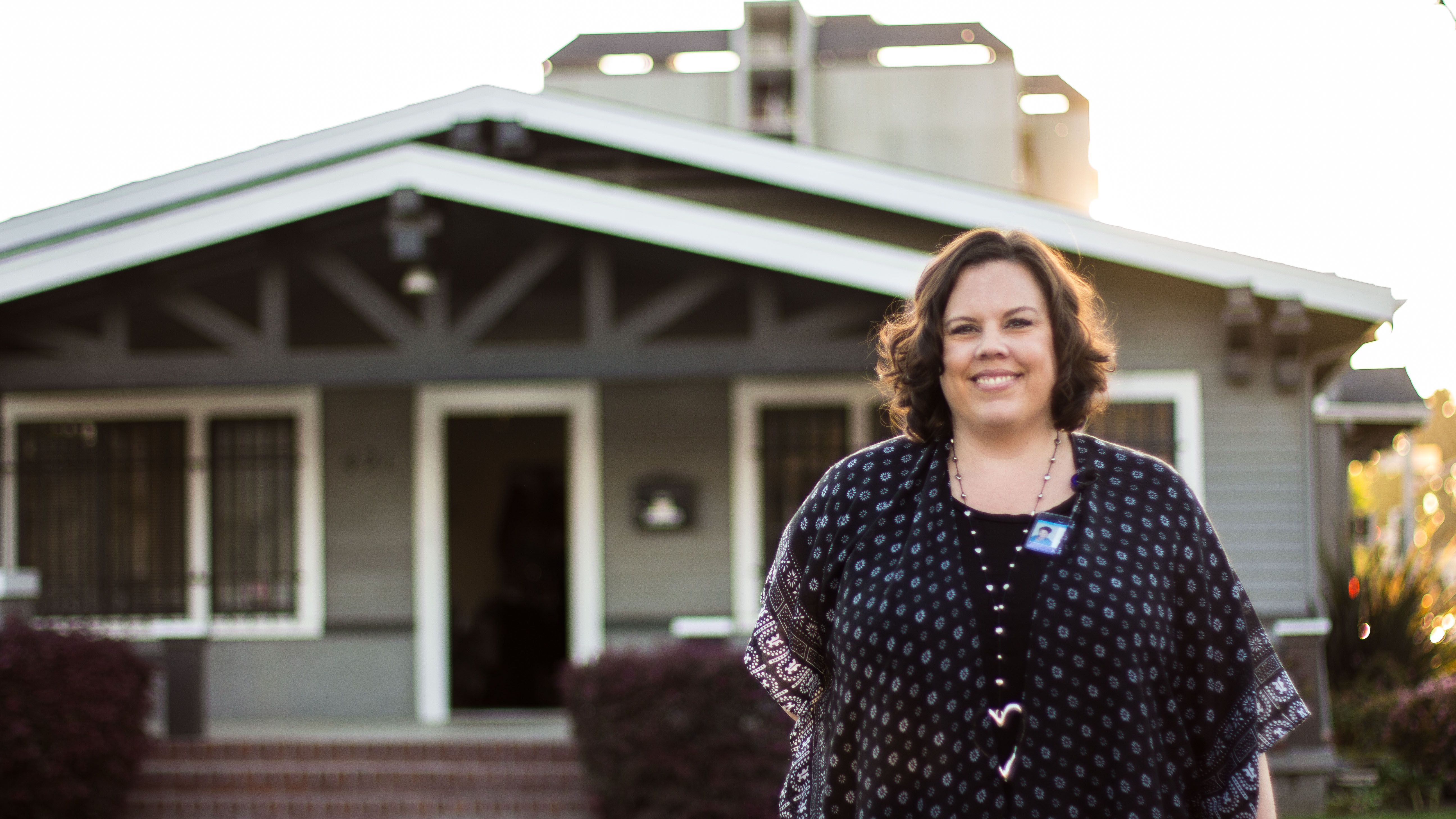 On March 28, Family Services celebrated the grand opening of the Freedom House, a new resource center for survivors of human trafficking and drop-in center for youth at risk for trafficking. Jennifer Noelani Boteilho, Family Services' resident human trafficking services expert, oversees the Freedom House and the Rape Crisis Center. She's answering a few of the most common questions people have been asking about our work with human trafficking survivors.
Q: Why did Family Services take on serving survivors of human trafficking?
A: We see a lot of intersectionality with human trafficking and the other work Family Services does. One of the indicators for human trafficking is a history of trauma, including sexual assault and exposure to domestic violence. It made sense to get involved as an agency.
Years ago, like many people, I thought of human trafficking as a smuggling issue. In 2009 I went to a training and learned what human trafficking is: exploitation of someone for the purposes of compelled labor or a commercial sex act using the elements of force, fraud, or coercion. I could think back to cases we'd had at the Rape Crisis Center that were actually human trafficking cases but had not been identified as such. I thought, "People need to know about this." After that we started building the groundwork to what is now the Freedom House.
Q: What does Family Services do at the Freedom House?
A: The Freedom House is a safe place where human trafficking survivors can get all kinds of free services to help empower them to become more self-reliant. A big part of what we do there is comprehensive case management. Human trafficking cases can be complicated with a lot of agencies involved. A case manager from the Freedom House comes alongside the survivor to help them navigate the system. This can mean being the liaison between all of the agencies involved, keeping the survivor in the loop on what's happening with the case, advocating on their behalf, and making sure their voice is heard in the process. Case managers can also connect survivors with other services, including emergency shelter, crisis counseling, ongoing professional counseling with a licensed therapist, support groups, life/job skills training groups, legal advocacy, and substance abuse treatment.
We also provide financial assistance. For example, sometimes we pick up a survivor at the police station and they only have the clothes they're wearing. We are able to help them purchase clothing and hygiene items. We worked with a survivor whose teeth were knocked out when her trafficker pushed her down a flight of stairs; we were able to pay for her dental work. We also help survivors with household establishment—helping to cover a security deposit, first and last month's rent, or furnishings.
A really unique thing about the Freedom House is that it functions as a drop-in center for teenagers who are at risk for human trafficking. This means it's a safe location where youth can just stop by and get support. There's a space for doing homework, computers they can use, tutoring, snacks, and activities like life skills workshops, art therapy projects, and yoga. Having a safe space to get support is so important because a lot of our clients are runaways. Even though they may be at a foster home or back with their parents, the temptation to run away again is strong. Having a place to go when things get rough can keep them from running and being vulnerable to trafficking.
Q: What are the biggest needs survivors have?
A: Besides the basic needs of safety, food, and shelter, their biggest need is building a sense of empowerment to make their own decisions. When you're a trafficking survivor all your power and control has been taken away from you. So instead of telling survivors what they have to do and how to do it, we offer options and give them the space to make their own choices.
Survivors also need to know how to utilize resources—who to call and how to make things happen. They need to be heard and not judged. They need help setting manageable goals. They need to have their progress celebrated. They need the freedom to make mistakes and learn from them. And they need time, because healing doesn't happen overnight.
Q: How can community members get involved?
A: This fall we will be offering a two-day human trafficking volunteer training for people who want to work directly with survivors and youth at the Freedom House on an ongoing basis. We are also looking for volunteers who could come in to lead a specific activity—for example, an art teacher who could teach a class, or someone who would lead a cultural activity. Any volunteers working at Freedom House will undergo fingerprinting and a criminal background check.
Cash donations can help us provide financial assistance to survivors, snacks for teens dropping in, or other supplies to keep the program going. In-kind donations of travel-sized toiletries, feminine hygiene supplies, nonperishable single-serve snacks, bottled water, and small denomination gift cards are also helpful. Finally, we'd love your help with building awareness. We do education and training in collaboration with the District Attorney's Office and Child Welfare Services, and can tailor a presentation on human trafficking to your workplace, service club, church group, or other group.
Do you have other questions? Want to get involved? Contact us and we'll have the best person get back to you as soon as possible.